Bios
---
We have assembled one of the most experienced independent contract regulatory consultancy teams. Our principals and consultants have extensive experience as physicians and investigators, as well as from serving in senior roles in a variety of multinational pharmaceutical companies.
We have a proven track record of success on a large number of challenging and vital projects, building on our unmatched experience.
---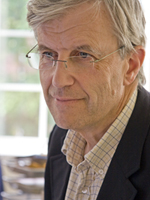 Paul-André de Lame, M.D., President and Chief Executive Officer
Paul-André de Lame has more than 20 years of industry experience and a broad knowledge of clinical research and development; predominantly in cardiovascular, but also in neurological and infectious diseases.
He participated in a variety of new product launches while organizing numerous research projects at the domestic and international levels. His team-based approach to global project management proved extremely efficient in organizing complex projects with short and long-term business relevance. His outstanding relationship with a large number of world-class opinion leaders enhanced further the impact of his programs in the medical community and the market place.
Building on his industry experience, Dr. de Lame co-founded Anabase International Corp. in 1996, a company dedicated to providing strategic consulting, medical services and management systems to the Pharmaceutical, Medical Device and Health Care Industries.
Paul-André de Lame is a reviewer for the AHA publication Hypertension. He has an M.D. degree from the Catholic University of Louvain, Belgium. He specialized in anesthesiology and intensive care medicine. He spent several years as Head of Intensive Care in a private hospital in Brussels (Belgium) before joining Merck Sharp and Dohme, Brussels.

Top of page
.
---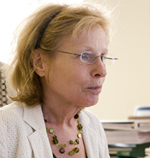 Michèle Lemaire, M.D. M.A., Vice President of Research Operations
Michèle Lemaire M.D., M.A. is a neuropsychiatrist with 10 years of medical practice in Belgium and a medical sociologist with research and teaching experience in the US. She co-founded Anabase International Corp. in 1996.
She contributes her clinical and research skills to specific services provided by Anabase to clients which are: medical monitoring and safety review; strategic consulting on target product profile; clinical product development and life-cycle management; regulatory support; study protocol and case report form development; study management; data collection, management and analysis; and data quality assurance.
She also participates in the development of Web-based user-friendly computer systems designed to assist the clinical study management process as well as the rapid development of data entry systems, databases and reporting tools for clinical research trials.
Michèle Lemaire has a M.D. degree from the Catholic University of Louvain, Belgium and a M.A. degree in Sociology from Rutgers University, New Jersey.

Top of page
.
---
Dennis E. Hyams, MB, FACP, FRCP(UK), FFPM, RCP(UK)
Dennis Hyams worked at Merck and Co., Inc., (International) for over 22 years, first as Medical Director, Clinical Research International, MSD Research Laboratories, then as Senior Medical Director, Medical Information.
While at Merck, Dr. Hyams had experience in Pharmacology and Therapeutics, particularly in the areas of Cardiovascular Medicine and Lipids. Prior to Merck, Dr. Hyams worked for 23 years in clinical practice in the UK, and gained special experience in geriatric medicine, neurology, diabetes mellitus, sexually-transmitted diseases, and pathology. He was a Consulting Physician in Geriatric and Internal Medicine, leading hospital-based clinical consulting services in Cambridge and at Guy's Hospital, London, and was an investigator in clinical and preclinical trials.
Now, Dr. Hyams provides Safety Review and Medical/Scientific Writing services to the Pharmaceutical and Medical Device industries.
Dr. Hyams graduated from The London Hospital Medical College (MB with Honors in Pharmacology and Therapeutics) and was a Harvard Research Fellow at Massachusetts General Hospital, Boston. He is a Charter Fellow of the Faculty of Pharmaceutical Medicine in the Royal College of Physicians (UK).
Top of page
.
---
Joel Silver, M.D.
Dr. Silver has more than 30 years experience in the design and implementation of human clinical research studies for regulatory approval of new drugs and devices. He has worked on projects for a wide range of pharmaceutical and biotechnology companies, and CROs.
Dr. Silver was Associate Medical Director, Pfizer Laboratories, then Director, Medical Department, Revlon Health Care. He has experience in all 4 phases of clinical research. Areas of expertise include: medical monitoring and safety review; study design; study management; and investigator recruitment.
Therapeutic areas for phase 1-4 studies have included: melanoma; bladder cancer; CHF; infertility; bone marrow transplant; arthritis; anesthesia; estrogen replacement; burns; analgesia; platelet sterilization; hypertension; depression; and diabetes.
Dr. Silver has taught "GCP/Preparing Clinical Protocols" through the Center for Professional Advancement, reviewed medical advertising, and participated in all aspects of medical marketing.

Top of page
.
---
Ira W. Daly, Ph.D., DABT, RAC, CBiol, MIBiol
Dr. Daly has over 30 years of experience in preclinical drug development, toxicology and regulatory affairs.
He began his professional career with Warner Lambert where he was involved in product development and safety for over-the-counter gastrointestinal and respiratory drugs and consumer products. Dr. Daly joined Bio/dynamics, Inc. in 1978 and served as a study directory and program manager for over one thousand toxicology studies conducted in support of international drug, medical device, food additive and chemical registrations.
As Senior Vice President and Director of Toxicology, Dr. Daly was responsible for laboratory and scientific operations in the areas of rodent, canine and primate toxicology, reproduction, inhalation and cardiovascular toxicology, intravenous infusion technology and metabolism and analytical chemistry.
In 1997 Dr. Daly joined Regulatory and Technical Associates, Inc as Senior Vice President, where he serves as a consultant in toxicology, preclinical drug development and regulatory affairs. He is actively involved in preclinical program design and management, and the preparation of regulatory submissions for drug approval.
Dr. Daly is Board Certified in Regulatory Affairs and in Toxicology, and he has a Ph.D. in Pharmacology.

Top of page
.
---
Dr. Robert J. Staab, DABT, RAC, CSE WSO, CBiol MIBiol
Dr. Staab began his professional career by developing a safety program for American Cyanamid Products. He next served Exxon Corporation in both the US and Europe dealing with such highly regulated areas as direct food additives and skin contact petroleum and chemical products.
As Director of Product Safety and Regulatory Affairs for Tambrands, he developed a safety program for the women's health care product, Tampax Tampons, and other women's health care products including in vitro diagnostics. This program was reviewed and commented upon extensively by the FDA, as he worked in close contact with the FDA and international governments concerning Toxic Shock Syndrome.
After joining London International as Vice President of Scientific Affairs during the height of the AIDS epidemic, he addressed several important issues for the condom and spermicide industry.
Dr. Staab has several patents in the field of drug delivery. He is currently a consultant to many pharmaceutical, medical device and chemical companies and well as NIH.
He is board certified in toxicology, regulatory affairs and safety, and is a Chartered Biologist (Institute Biology, London). He has an M.B.A. from Fairleigh Dickinson University, an M.S. and Ph.D. from St. Johns University, and an A.B. in Biology from Boston College.
Top of page
.
---
Peter Blower, Ph.D., DSc, CBiol, FIBiol
Peter Blower has been involved in medical research and development for over 30 years, his career having begun in 1969 when he joined Beecham Plc's Research Division as a research biologist.
Subsequently Dr. Blower moved through various roles within Beecham Plc and post-merger with SmithKline Beecham Plc where in 1991 he was appointed as Director, Gastrointestinal Product Support. This was followed by promotions to Director, Product Support Programmes and then to Director, New Neuroscience Products.
In March 2000, Dr. Blower left SmithKline Beecham and has since then been providing independent advice on technical development, market analysis and strategic marketing of therapeutic agents and biotechnology devices to multinational companies, smaller start-up companies and Governmental organizations.

Top of page
.